Couple weeks ago I took a survey from AWP group on Facebook. The questions were:
Which WordPress plugins do you use most in the following categories:
SEO, Social Media, Commenting, Caching, Captcha and Payments?
If you're interested in what plugins the WP people use most for those purposes, you can now check the post on PSDtoWP.net, they revealed the results in an alphabetical list of all experts who have participated in the research, and you can find my answers here.
When I took the survey, I didn't know they'll put stuff together and publish a post like this. When I got email from Bauke Roesink, the guy behind PSDtoWP.net, with the link of his article (titled "The best WordPress plugins revealed by 39 WordPress enthusiasts"), I'm kind of surprised to see my answers were listed with others' like Joost de Valk, Jeff Starr, Justin Tadlock, Tom McFarlin… etc., and quietly thought, oh, my answers look a bit too casual…
Anyway, I think that post is quite worth a read when you'd like to know how or why WP people prefer certain plugins. As a plugin developer, it's interesting to see more field surveys like this, to help us know better about the market.
Today I want to share my new favorite plugin on social media, which is Simple Share Buttons Adder, the social share buttons plugin I start to use on 1Fix.io couple days ago.
When I wrote a tutorial on AngularJS and JSON API, I'd really like to share what I learnt with newcomers. Somehow I recalled once I've read a tweet like "it's frustrating when you really like to share a post but no built-in share buttons there". That encouraged me to install a social share plugin on 1Fix.io.
Though in the previous survey I said that "When I need social media functions like sharing a post, I'll use Jetpack." That's the case if I'm building websites for clients. When it comes to my own blog, I'd love to try something new.
After searching on plugin directory on WordPress.org, Simple Share Buttons Adder catched my eyes. Mostly because I've never heard of it before, but it gets almost 400 5-star reviews. That's definitely something worth to try.
Another reason I chose Simple Share Buttons Adder is, I wasn't looking for floating share bar though it is very popular nowadays. I'd like things simple to go with my theme, and of course, the description from the plugin author David Neal has a very good point:
No hotlinking to another website to slow downloading or for tracking use, it's simple, as promised.
So it's time to see how Simple Share Buttons Adder works.
1. Basic Settings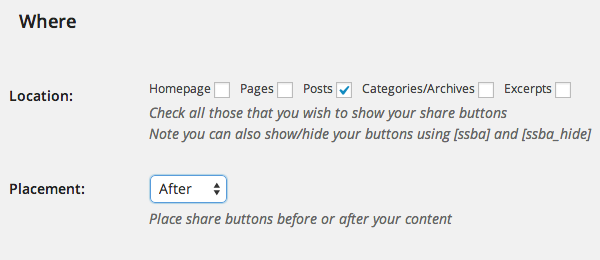 You can set where you'd like the buttons displayed, and the location regarding to your content.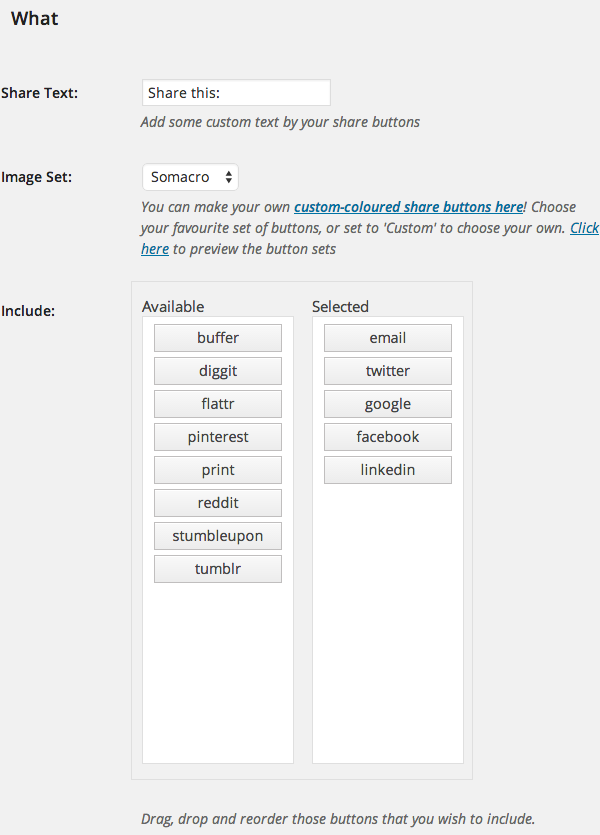 There are 8 sets of images for you to choose from. You can also upload custom images if needed. A drag and drop interface is used to select the social services.
2. Styling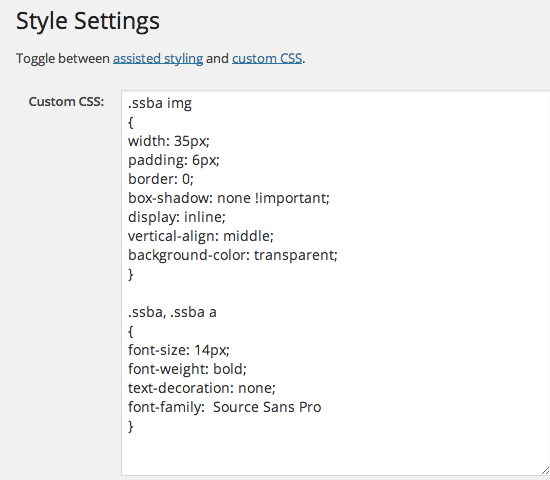 You can use the assisted styling options, or if you prefer to custom the CSS. It's much more intuitive to me.
3. Counters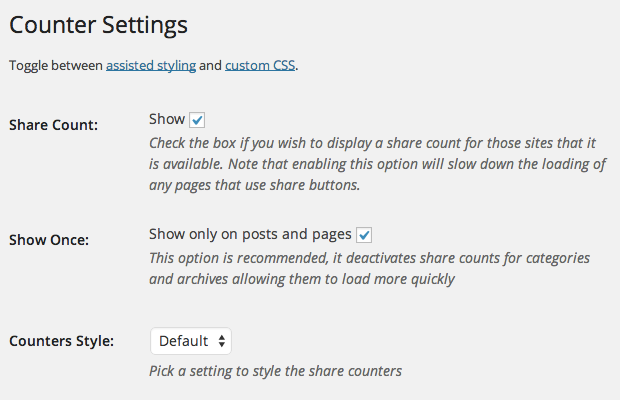 By default, the share count won't be displayed with buttons. You can enable it, but please note that will slow down the loading of the pages.
4. Advanced Settings
In the advanced settings, you can set the custom text for certain services. For example, I add my Twitter handle so I'll get mentioned if people tweet my post.
That's it. Now you have a no nonsense social share plugin on your blog.
Simple Share Buttons Adder has a dedicated website and a paid version, with more enhanced features like floating bar, share statistics etc. For developers, if you're interested in improving the plugin, you can fork it on GitHub.
If you try and like it, don't hesitate to submit a review on WordPress.org. That'll encourage plugin authors very much to keep improving their work.
I'd like to hear your feedback on social share plugins. Do you think it's needed? Do you feel kind of bothered by the floating share bars (sometimes I do)? Or maybe you got some awesome ideas and are looking for a developer to work with? I'd love to!
Have a nice weekend. 🙂